Narconon's Effectiveness
---
The Narconon program is effective in diverse environments: prisons, juvenile halls, other treatment facilities, or its own residential or nonresidential facilities. Rehabilitation centers grow out of the community. A program for drug abusers might be housed in a community center in one locale and a hospital in another. For this reason, an effective program must be able to adapt to a variety of settings. Narconon services are delivered in freestanding residential and nonresidential facilities, as well as in prisons and juvenile halls.
The Narconon program (or parts of it), as licensed by Narconon International, can be incorporated in other rehabilitation or institutional settings. Depending on the circumstances, Narconon centers can either train the staffs of other organizations or provide trained staff.
"A recent outcome study examined 183 Narconon students 18 months after their graduation. Prior to their participation in the Narconon program, 81 percent had been incarcerated, 33 percent for longer than one month. Twenty two percent admitted to engaging in criminal activity for an average of 13 of the 30 days prior to starting the Narconon program. Eighteen months after graduation, only a remarkable 0.05 percent had been re-incarcerated."
-Shelley Beckmann, PhD
Research Director, Narconon International

Dr. Beckmann earned her B.S. from the California Institute of Technology and her Ph.D. in Molecular Biology from the University of Colorado, Boulder. Over the last decade, the focus of her work has been on the reduction of adverse health effects from chemical contaminants and the treatment of drug abuse. To read more about evaluations of the Narconon program see "Summary of Evaluations of the Narconon Program over the Last 25 years".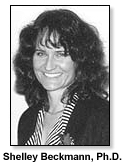 Studies show that the Narconon program reduces recidivism and drug reversion. According to a 1998 report from the Center for Addiction and Substance Abuse (CASA), drug and alcohol abuse and addiction are implicated in the incarceration of 80 percent of the men and women incarcerated in state, federal and local prisons. At a time when prisons and county jails suffer dangerous overcrowding, the majority of offenders return to crime, arrest and incarceration after their release. Studies of the Narconon program conducted over the last 20 years have found that it significantly reduces the rate of drug reversion and recidivism.