Narconon Celebrates 30th Anniversary
---
The drug rehabilitation program that revolutionized the field celebrates 30 years of saving lives.

By Warren Pagliaro
How much is a life worth?"
That is a question Kirstie Alley, international spokesperson for the Narconon Drug Rehabilitation Program, posed to the audience at the organization's 30th anniversary in Beverly Hills this spring.
But she also saved the audience from having to answer that touchy question, with her own sensible answer: "It is worth saving. And that is what Narconon is all about, and has been about for three decades. In fact, it is because of the rehabilitation methods used by Narconon that I am alive to talk to you today."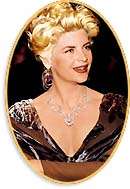 Kirstie Alley served as both hostess and mistress of ceremonies for the evening, and introduced the 1996 Narconon Drug-Free Hero award winners.
Emotional, Star-Studded Evening
From the moment of arrival at the Beverly Hills Hotel it was clear that this was to be much more than just an awards dinner. Kirstie Alley—who acted as hostess for the evening, chairing a hosting committee which featured Anne Archer, Chick Corea, Tom Cruise, Danny DeVito, Willie Gault, Earvin "Magic" Johnson, Nicole Kidman, Carlos Palomino, Priscilla Presley, John Travolta and many other luminaries—was determined to put on a show which both enlightened and entertained. And Alley, personally involved in every step of the planning and execution of the evening, delivered. Before the dinner and presentations, a "silent auction" raised funds for the expansion of Narconon's programs and facilities.
Memorabilia at the fund-raising auction included numerous items donated by well-known personalities, including an acoustic guitar signed by all members of the Eagles.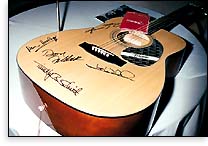 Bidding was lively on the auction menu that included an NBA basketball signed by Magic Johnson, a black leather crew jacket from Days of Thunder, a set of doctor's surgical scrub attire donated by "ER" star George Clooney, a limited edition Yamaha bass guitar signed by Billy Sheehan, and many other collectibles including movie posters and animation cels signed by the likes of Whoopi Goldberg and Kevin Costner. Bidding was even more spirited in the live auction later in the evening. Items included a customized Harley-Davidson motorcycle donated by actor Parker Stevenson, a trip for two in John Travolta's private jet to Pebble Beach Lodge, an acoustic guitar signed by every member of the Eagles, donated by Don Henley—and the list went on. Every dollar raised through the auction went straight to supporting and expanding Narconon's drug education and rehab programs.

After dinner and the unique storytelling/musical combinations offered by actor Geoffrey Lewis' project, Celestial Navigations, Kirstie Alley welcomed the hundreds in attendance and saluted Narconon on its 30 years of life-saving and innovative drug rehabilitation.
Her salute was personal and sincere. "I am understandably biased when it comes to Narconon," Alley said, "because, had I not done it, I wouldn't have the career, the family, the success, the life that I have today."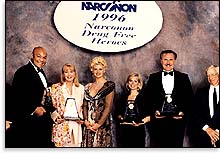 Drug-Free Hero awardees included, from left, champion boxer George Foreman, actress Diane Ladd, anti-drug crusader Jerilyn Simpson, NASADAD chief executive officer John S. Gustafson and neurologist and physician Fred Baughman, Jr.
Alley then was joined on stage by a young woman named Kelly Piper. "For 17 years, I was trapped on drugs," Piper said. "I spent more than a million dollars on crack cocaine over a four-year period. I got pregnant twice and lost both of those children during pregnancy. I got arrested twice.
"Then, during that last year, I got pregnant again and I got arrested again. Life looked really bleak and without hope.
"But, fortunately for me, the judge ordered me into a rehab. I started the Narconon program in 1993. That is my 'freedom date,' because Narconon changed my life forever. I learned how to confront my life, and I learned how to be happy, and it had nothing to do with drugs. Before, I thought I had to have drugs to be happy."
Kirstie Alley then introduced her co-auctioneers, Iz Chait from I.M. Chait Galleries and actor Jim Meskimen, and kicked off the live auction, which by all measures was a huge success.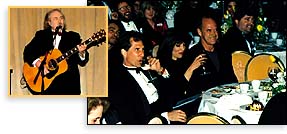 Hundreds enjoyed the dinner, entertainment, auction and awards presentations which were capped off with a surprise performance by rock legend David Crosby.
Drug-Free Heroes
To introduce the second part of the evening—the "Drug-Free Hero" awards for 1996—the enthusiastic crowd heard legendary singer-composer Isaac Hayes perform his composition, "Windows of the World." Hayes told the audience that he wrote the song more than 20 years ago to send a message to the world that it had to take better care of itself.
"People can do so much good," Hayes said, "but they can also do so much harm. I want people to know when they hear this song that they can—like so many of you are—make a difference and help clean up the windows of the world."
Kirstie Alley then introduced the 1996 Drug-Free Hero award winners. These awards were originated five years ago by Alley who wanted to acknowledge those who work tirelessly and effectively to set an example of drug-free living for children and others. She was assisted in presenting the awards by former Los Angeles Raiders wide receiver Willie Gault, 1993 Drug-Free Hero award recipient.
The first award recipient was Dr. Fred Baughman Jr., a 30-year pediatric neurologist who has worked effectively to establish that Attention Deficit Hyperactivity Disorder (see "The Myth of Attention-Deficit Disorder") is nothing more than a scam intended to make money for psychiatry. More importantly, he has worked to keep children off Ritalin—the dangerous psychiatric drug which is prescribed by psychiatrists to deal with this "disorder." Baughman has informed many people about how Ritalin predisposes children to future drug abuse.
In accepting his award, Baughman said, "I have worked with children extensively over my 35-year career in medicine. Too often, when children fall behind in class, they get blamed and diagnosed as having 'learning disorders' and the like, and that in turn becomes an excuse to drug them in 'treatment.' And now that treatment is a growth industry—with 90 percent of the Ritalin consumption happening here in the U.S., this deception must be exposed and stopped."
Academy Award-winning actor Lou Gossett Jr., received the Drug-Free Hero award for his tireless support of numerous community projects and causes, including the United Negro College Fund and the Coalition for a Free South Africa—work that he was only able to accomplish after winning his own battle with drugs.
Next was Jerilyn Simpson, a community leader from San Bernardino County, California, who has worked effectively for more than a decade to fight drug abuse in her area. She is the founder and president of San Bernardino Communities Against Drugs, which reaches more than 35,000 youth each year. In accepting her award, Simpson said, "There is nothing more rewarding for me than knowing that you have been able to keep a child from going down the road of drug abuse. I am very happy to do what I do, and very happy to have the good people at Narconon to help get people off of drugs when they wind up on that road. I urge all of you to continue."
Jack Gustafson, chief executive officer of the National Association of State Alcohol and Drug Abuse Directors Inc., a national network of leaders in the field of drug abuse treatment and education, was then honored. Gustafson plays a leading role in the public policy process and gaining support for new programs. He was followed by actress Diane Ladd, who was awarded for setting an example of caring and drug-free living for the entertainment industry and the world. Ladd toured the country for half a year to see the drug problem for herself so she could speak out about it with knowledge and conviction.
The final award recipient was world-champion boxer George Foreman, who went from his successful boxing career to becoming a pastor and then opening a community center for troubled youth in his home town of Houston.
Alley explained that Foreman has set a drug-free example for millions of children through his personal efforts. Foreman put it simply: "I am glad that I can help through what I do. And I am even more glad that you people do what you do to help as well."
The moving close to the evening came when David Crosby and his son came on stage to perform his Crosby, Stills & Nash classic "Teach Your Children Well," to a rapt audience which was almost instantly singing along in unison. His performance was met with a standing ovation, and—plied by Kirstie Alley—they then did an encore, Crosby's more recent hit "Heroes."
It was a fitting close to an evening honoring true heroes of the drug rehabilitation field.