FAQ About Oxycontin
---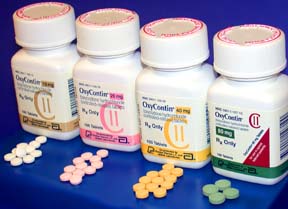 Q.) What is OxyContin?
A.) OxyContin, approved by the FDA in 1995, an opium derivative, which is the same active ingredient in Percodan and Percocet. OxyContin is intended for use by terminal cancer patients and chronic pain sufferers. It has been linked to at least 120 overdose deaths nationwide. OxyContin (oxycodone hydrochloride controlled-release) tablets are an opioid analgesic supplied in 10 mg, 20 mg,40 mg, and 80 mg tablet strengths for oral administration. The tablet strengths describe the amount of oxycodone per tablet as the hydrochloride salt. The structural formula for oxycodone hydrochloride is as follows: The chemical formula is 4, 5-epoxy-14-hydroxy-3-methoxy-17-methylmorphinan-6-one hydrochloride.
Oxycodone is a very strong narcotic pain reliever similar to morphine. OxyContin is designed so that the oxycodone is slowly released over time, allowing it to be used twice daily. You should never break, chew, or crush the OxyContin tablet since this causes a large amount of oxycodone to be released from the tablet all at once, potentially resulting in a dangerous or fatal drug overdose.
Oxycodone is a white, odorless crystalline powder derived from the opium alkaloid. Oxycodone hydrochloride dissolves in water (1 g in 6 to 7 mL). It is slightly soluble in alcohol (octanol water partition coefficient 0.7). The tablets contain the following inactive ingredients: ammonio methacrylate copolymer, hydroxypropyl methylcellulose, lactose, magnesium stearate, povidone, red iron oxide (20 mg strength tablet only), stearyl alcohol, talc, titanium dioxide, triacetin, yellow iron oxide (40 mg strength tablet only), and other ingredients.
OxyContin is an opiate agonist. Opiate agonists provide pain relief by acting on opioid receptors in the spinal cord, brain, and possibly in the tissues directly. Opioids, natural or synthetic classes of drugs that act like morphine, are the most effective pain relievers available. Oxycodone is manufactured by modifying thebaine, an alkaloid found in opium. Oxycodone has a high abuse potential.
Oxycodone is a central nervous system depressant. Oxycodone's action appears to work through stimulating the opioid receptors found in the central nervous system that activate responses ranging from analgesia to respiratory depression to euphoria. People who take the drug repeatedly can develop a tolerance or resistance to the drug's effects. Thus, a cancer patient can take a dose of oxycodone on a regular basis that would be fatal in a person never exposed to oxycodone or another opioid. Most individuals who abuse oxycodone seek to gain the euphoric effects, mitigate pain, and avoid withdrawal symptoms associated with oxycodone or heroin abstinence.
---
Q.) How is OxyContin used?
A.) The power painkiller OxyContin is being abused by more and more people across the nation. The heroin-like effects of the drug attract both legitimate and illegitimate users.
When used properly, OxyContin contains a time-release mechanism that spreads the release of the drug over a 12-hour period. The time-release mechanism can be circumvented by crushing the tablet and the drug can be used in one of the following ways:
The tablets can be chewed

The tablets can be crushed, then snorted like cocaine

The tablets can be crushed, dissolved in water, then injected like heroin
OxyContin abuse is spreading for a variety of reasons. First, the elevated opiate dosage makes it highly addictive. Second, in contrast to drugs such as cocaine or heroin that can be laced with other substances, with OxyContin you know how much of the drug you are getting; the dosage is consistent, so it is a dependable high. Finally, OxyContin is covered by most health insurance plans, so it is significantly cheaper than street drugs. (OxyContin has been referred to as "hillbilly heroin" or "the poor man's heroin.")
---
Q.) What are the effects of OxyContin?
A.) Respiratory depression is the chief hazard from all opioid usage. Respiratory depression occurs most frequently in elderly or debilitated patients, usually following large initial doses in non-tolerant patients, or when opioids are given in conjunction with other agents that depress respiration. Common opioid side effects are constipation, nausea, sedation, dizziness, vomiting, headache, dry mouth, sweating, and weakness.
Oxycodone should be used with extreme caution in patients with significant chronic obstructive pulmonary disease and in patients having a substantially decreased respiratory reserve, hypoxia, hypercapnia, or preexisting respiratory depression. In such patients, even usual therapeutic doses of oxycodone may decrease respiratory drive to the point of apnea. In these patients alternative non-opioid analgesics should be considered, and opioids should be employed only under careful medical supervision at the lowest effective dose. Oxycodone causes miosis, even in total darkness. Pinpoint pupils are a sign of opioid overdose but are not pathognomonic. Marked mydriasisrather than miosis may be seen due to hypoxia in overdose situations.
Gastrointestinal Tract and Other Smooth Muscle
Oxycodone causes a reduction in motility associated with an increase in smooth muscle tone in the antrum of the stomach and duodenum. Digestion of food in the small intestine is delayed and propulsive contractions are decreased. Propulsive peristaltic waves in the colon are decreased, while tone may be increased to the point of spasm resulting in constipation. Other opioid-induced effects may include a reduction in gastric, biliary and pancreatic secretions, spasm of sphincter of Oddi, and transient elevations in serum amylase.
Cardiovascular System
Oxycodone may produce release of histamine with or without associated peripheral vasodilation. Manifestations of histamine release and/or peripheral vasodilation may include pruritus, flushing, red eyes, sweating, and/or orthostatic hypotension.
Concentration--Efficacy Relationships (Pharmacodynamics)
Studies in normal volunteers and patients reveal predictable relationships between oxycodone dosage and plasma oxycodone concentrations, as well as between concentration and certain expected opioid effects. In normal volunteers these include pupillary constriction, sedation and overall "drug effect" and in patients, analgesia and feelings of "relaxation." In non-tolerant patients, analgesia is not usually seen at a plasma oxycodone concentration of less than 5&endash;10 ng/mL.
As with all opioids, the minimum effective plasma concentration for analgesia will vary widely among patients, especially among patients who have been previously treated with potent agonist opioids. As a result, patients need to be treated with individualized titration of dosage to the desired effect. The minimum effective analgesic concentration of oxycodone for any individual patient may increase with repeated dosing due to an increase in pain and/or the development of tolerance.
---
Q.) Is OxyContin addictive?
A.) The powerful prescription pain reliever has become a hot new street drug that has resulted in more than 120 deaths nationwide. It will give you a high much like HIGH GRADE heroin but with worse consequences. 5mg of OXY has has as much active ingredient (oxycodone) as One percocet. So chewing/snorting a 40mg OXY is like taking 8 percocets at once or a 80mg Oxy is like taking 16 percocets all at once. Overdose Symptoms: Slow breathing, seizures, dizziness, weakness, loss of consciousness, coma, confusion, tiredness, cold and clammy skin, and small pupils.
OxyContin should be used to fight extreme pain. Doctors commonly prescribe it to cancer patients as an alternative to morphine. The drug is addictive, expensive, and when misused, it can be lethal. OxyContin abuse is becoming an epidemic in several rural states.
Physical dependence, which is sometimes unavoidable, develops when an individual is exposed to a drug at a high enough dose for long enough that the body adapts and develops a tolerance for the drug. This means that higher doses are needed to achieve a drug's original effects. If the patient stops taking the drug, withdrawal will occur. Just like heroin it is almost impossible to do alone as the withdrawal symptoms of OxyContin are worse than heroin and last longer. Professional help from a heroin detox center is the best and safest way to do this but there is NO painless way.
Drug craving is the result of the drug's imprinting in the memory of a pleasant association of euphoria with the drug. The subconscious memory then motivates the individual to seek this drug because of the false imprint. The brain, in effect, has been trained that using the drug is the fastest way to feel good. This learning process then produces a new appetite or drive to seek the drug which we call craving. This craving is most often activated by, a) memory of pleasure, b) when we feel bad and have a habit of using the drug to rapidly feel good, c) when we are in a situation with people, places and activities in which a previous habit pattern of drug use has been established.
Prescription drugs, like other addictive drugs, are able to short-circuit your survival system by artificially stimulating the reward center, or pleasure areas in your brain, without anything beneficial happening to your body. As this happens, it leads to increased confidence in the drug, and less confidence in the normal rewards of life. This first happens on a physical level. Then, it affects you psychologically. The big drug lie results in decreased interest in other aspects of life, as you increase your reliance and interest in the drug. People, places and activities involved with using drugs become more important. People, places and activities or lifestyles that worked through your normal reward system, before using the drug, become less important to you. After a while, a heavy drug user will actually resent people, places, and activities that do not fit in with that drug use.
Addictive drugs mimic the action of chemicals your brain produces to send messages of pleasure to your brain's reward center. They produce an artificial feeling of pleasure. Most addictive drugs are able to produce pleasurable effects by chemically acting like certain normal brain messenger chemicals, which produce positive feelings in response to signals from the brain.
The result is a dependence on the immediate, fast, predictable drug which, at the same time, short circuits interests in and the motivation to make life's normal rewards work. More and more confidence is placed in the drug while other survival feelings are ignored and bypassed. The result of this addiction cycle is a lack of concern for, and confidence in, other areas of life.

---
If you have a problem with oxycontin addiction call Narconon Southern California drug rehab center, we can help 1800 US NO DRUGS